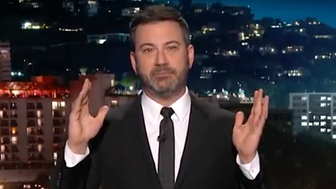 On Wednesday's broadcast of "Jimmy Kimmel Live!," the comedian even came up with a potential name for them.
I will be announcing THE MOST DISHONEST & CORRUPT MEDIA AWARDS OF THE YEAR on Monday at 5:00 o'clock. Subjects will cover Dishonesty & Bad Reporting in various categories from the Fake News Media. Stay tuned!

— Donald J. Trump (@realDonaldTrump) January 3, 2018
But Kimmel also questioned whether Trump was the right person to run the show.
"Will he (Trump) be physically able to give a trophy to someone other than himself?" Kimmel joked. "I don't think so."
Check out Kimmel's title suggestion above.